THE NORTHEAST (a short visit, we'll be back later)
PENNSYLVANIA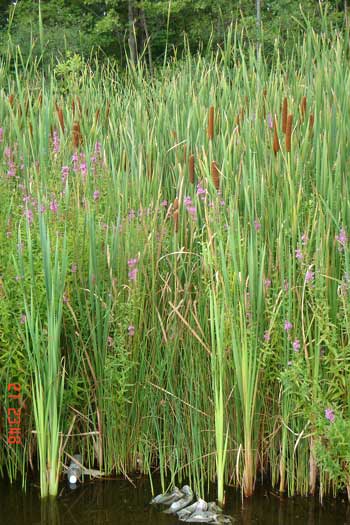 On to Erie, PA, once a big industrial town, now just a big town, with hundreds of old brick foundries, manufacturing plants, and office buildings lying vacant, just waiting to be turned into brew pubs, artists' studios, urban malls, whatever urban renewal can offer, and ASAP, please. Like other Northeastern towns that have faded from a more prosperous era, Erie also has miles of shaded streets with grand homes we'd call mansions in California. It's an eye-opener for us to get a look at the economic muscle once centered in this part of the country that for the most part is gone for good, not just from the Northeast but from the entire country. It represents a lot of lost jobs, and we don't blame the workers for being pissed; we'd be pissed too.
Our sole reason for driving to Erie was to visit Rus' mother's sister Betty and husband Don, who've lived in Erie their entire married lives, some 63 years. They sold their lakefront home a few years ago to move into a very nice retirement community, where Don could have better care for Betty, who has Alzheimer's. The affection they still have for each other in spite of Betty's fading memory, and Don's graceful acceptance of their situation, was an inspiration to us. We ate in the community restaurant where they take most of their meals and enjoyed meeting some of their friends (we had a phone call from one of them yesterday). We'd never been to a retirement community before, so it was quite a new experience, and we saw that these were people like us, who'd just gotten older and needed help with some of the physical realities of living.
Since we stayed over Saturday night, next morning Don took us to services at the church they'd been married in and had gone to ever since, First Presbyterian Church of the Covenant, an impressive building of carved gray limestone, huge windows of stained glass and a vault that looked 100 feet high. Rus hadn't attended church in many years, but Don assured him the walls would hold and the ceiling wouldn't collapse. Kathleen was impressed by the sermon, a well-told story of Ester, who risked her life to save her people, told with suspense and a flare that she didn't remember from the sermons of her childhood. After the service, he led us to a lovely little chapel off the main vault, turned to Rus and said, "I thought you'd like to see where your mother and father were married." Well, this took him completely by surprise, and they lingered there for several minutes, imagining his parents as two young people beginning their lives together nearly 60 years before surrounded by friends and family, in this room that probably looked the same now as it did then. True to Don's word, the walls and ceiling held.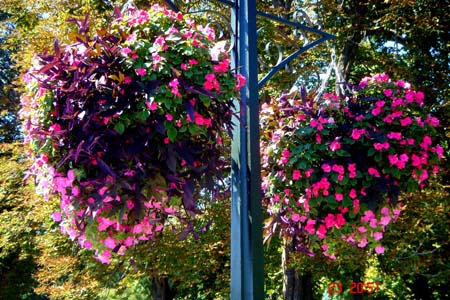 Pennsylvania is so green, it reminds us of the rain forests of Costa Rica with its towering hardwood forests, creeping vines, lush undergrowth and abundant rivers and streams. It may have helped that we were there in August after some heavy rains. We will also remember Pennsylvania as the place we spent 3 1/2 hours at the edge of a Flying J gas station replacing our faulty sewer valve. We were glad the parking lot was so big and full of trucks, and no one seemed to even notice us, tools spread all over the blacktop. That done, we headed to a bookstore where we bought some travel guides for Eastern Canada so we could learn more about it before we got there.
< Canadian Flowers in Niagara Falls

New York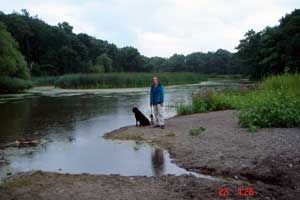 Kathleen had to see Niagara Falls, so off we went, first spending a few days nearby at a campground right on Lake Ontario, the skyline of Toronto floating on the horizon across the lake, looking in the distance like some fabled, magical place. We needed some time to get caught up on our banking and communication, and make some loose plans for the next leg of our journey into Canada. This campground (which in NY they call a "campsite") is called Four Mile Creek, and it turned out to be one of Kathleen's very favorite spots to stay put for a few days. It is beautiful, with expansive fields of green (mowed, of course, we're in NY!), handsome old hardwood trees, groves or hedges that separate camping areas into cozy "neighborhoods", and THE BEST sunsets every night over the lake. It was fun; every evening at sunset people from every part of this very large park headed to water's edge with their dogs, or their drinks, or just each other to watch this glorious event. We were there too, every night. Ziggy's favorite part of the park, beside swimming in the lake, was going after squirrels and she just couldn't understand why we wouldn't let her catch one.



| | |
| --- | --- |
| | |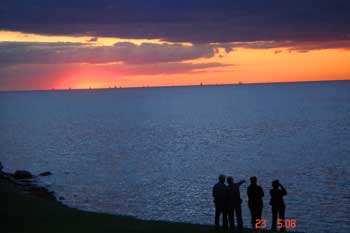 Finally venturing out to see the Falls, we parked on the American side at Niagara Falls State Park, the oldest state park in the country. The Niagara River takes the outflow from Lake Erie and dumps it over the falls into Lake Ontario. A small island splits the river in two creating the larger Canadian (horseshoe)Falls and the slightly higher American Falls. It looks pretty bad, from a kayaker's point of view. The rapids above the falls are ferocious, the falls are, well, the falls, and the river below a roiling mess of enormous rapids and whirlpools. Definitely a portage. We heard from a ranger that one kayaker did try the Falls about 10 years ago. They found his boat, completely mangled, but they never found his body. Other dare-devils have ridden over the Canadian Falls in various types of barrels or craft and about two-thirds of them survived the ride. The first we know of was a woman, (I think her name was Annie Taylor, if my memory serves me). She was a school teacher in her 60's who wanted to provide for her retirement and thought this stunt would insure her fame and fortune. Her vessel was a wooden barrel stuffed with a mattress for padding, and corked tight after having air pumped into it with a bicycle pump. They say she brought along a kitten who also survived! She ended up dying a pauper but her story lives on.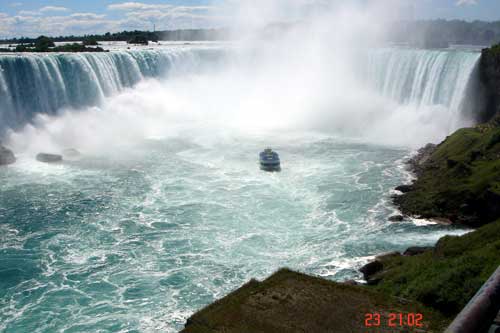 We spent the whole day there and never got tired of gawking. Hearing the roar, feeling the spray, witnessing the power and the beauty of the Falls is thrilling. Everyone says the Canadian side is best, and of course Horseshoe Falls, where 90% of the water goes over, is spectacular, but we were just as enchanted with the views from the American side, and the fact that it's a park, and not a strip of shops and hotels, was a plus. We did it all, the Maid of the Mist boat ride to the bottom of the Falls, the Journey Behind the Falls, the Imax presentation about the Falls, lunch on a terrace overlooking the Falls, everything but go over the Falls in a barrel. We saw only one couple that looked like they might be on their honeymoon (they looked happy), but most everyone else we saw came with their families or friends, the majority from countries other than the U.S. and Canada, just like the Grand Canyon.
When we walked over to the Canadian side, we were courteously greeted and welcomed by the customs official. Getting back to the Homeland was another matter; first a turnstile demanding a fee, then a long line, only to reach the understaffed customs station, where they looked at our IDs, asked "place of birth?", and let us pass, while other people were waiting for hours. I should mention that we are both Caucasians, speak excellent, unaccented English, and have credible birthplaces. It helps.

Photos of Niagara Falls visit. Click on thumbnail to see larger view
| | | | | | | | | | |
| --- | --- | --- | --- | --- | --- | --- | --- | --- | --- |
| | | | | | | | | | |
Crafts used to ride the Falls

| | | |
| --- | --- | --- |
| | | |
Left to right. Replica of Annie Taylor's barrel, Dave's third attempt, unknown with a stowaway!


Travel Log, Past Entries: Click to read each one
Oregon, Washington June 2005
California July 2005
Southwest July/August 2005
Midwest/August 2005
Northeast/August 2005
Ontario/August 2005
MontrealQuebec/August 2005