Travel Log, Recent Entries
NEW ENGLAND IN OCTOBER
Maine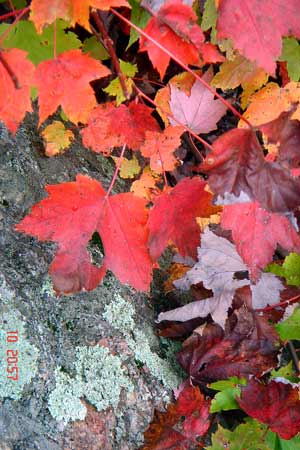 Thank God Maine is so spectacularly beautiful, or it would have been even harder to leave Canada. As it was, we were just sucking in our breath at every turn in the road. The storm that chased us out of New Brunswick still pounded us, but somehow it complemented the marriage of land and sea that is coastal Maine. The second thing we noticed after the scenery was that people talk funny in Maine; the letter R, if it's not at the beginning of a word, is just omitted. We noticed this because people here have been so friendly and talkative. But at least they don't put Rs where there aren't any, like some do in Warshington! There are other things too, but that's the Maine one (all the little shops along the road are "Mainely" this, or "Mainely" that, pretty clever the first time you see it).
Well, if you have postal delivery service, you probably know that L.L. Bean has its headquarters in Freeport, Maine. We were so close, we had to go. It was amazing to see, not only Bean's flagship store with it's mutli-level extravaganza of outdoor fashions and sporting gear, but also the factory outlets of many other companies which have sprung up around it, making the whole town of Freeport one big jumble of outlet stores, restaurants and hotels. We couldn't resist making some additions to our wardrobes, (new raincoats that really worked!) but an equal number of deletions have to follow because of our limited space. One thing about L.L. Bean: how do they catch shoplifters? Everyone coming in and going out looks like they're wearing brand new L.L. Bean outfits. For once, Rus was glad for the dog hair on his fleece jacket!
We drove west down the coastline of Maine but the stormy weather hid much of the scenery. It was grey and wet and cold, with no sign of a change so we headed inland in search of fall colors. We wanted a place to hike in the hardwood forests, rain or no, and the friendly folks at the Mollydockett Inn suggested driving up Highway 26. There were covered bridges on the way, and plenty of scenic trails at Grafton Notch State Park that pass by streams and waterfalls and granite boulders covered with moss. The trail we took up to Table Rock ended in a steep climb up to a flat rock top mountain where ridges stretched off in the distance as far as the eye could see.
Top: Table Rock in Grafton Notch State Park, Applachian Trail
Middle: Beautiful Raindeer moss near Moose Cave
Bottom: Dinner of "twin lobsters" for $17.99 at the Chowder House, Eastport Maine
New Hampshire and Vermont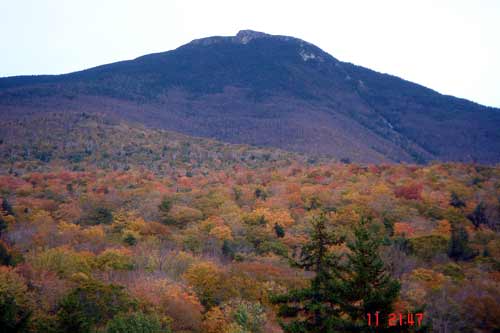 <...It's called George's face, see why?
Amid this cornucopia of shopping opportunities, we remembered that we'd come to New England for the Fall colors, and that it was Fall. The leaves were already turning in Nova Scotia, but just two days later in Maine, it was really starting to happen. The New Hampshire Tourism Bureau must really have some pull, because as soon as we crossed the state line, all the leaves were vividly more colorful. Neither of us had been to New England before, so we were unprepared for the scope of the scenery that met us. Sometimes it was a lone maple in an old cemetery that grabbed us, its leaves bright orange against the sky; sometimes it was a vast expanse of yellow, orange, red and green stretching from the valley floor to the mountaintops, broken only by clear cascading streams and sheer faces of white granite. We took route 16 from Maine into the White Mountains of New Hampshire, camping near North Conway. It was mid October and most of the parks were closed or closing for the season. Winter comes early and lasts long in these parts and weatherizing the campgrounds has to be done. It was getting colder and harder for us to find a place to stay each night even though we were in the peak of fall colors.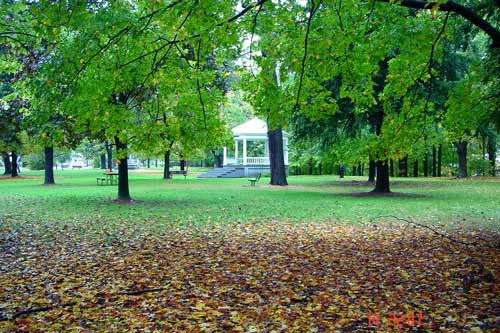 Vermont was even more scenic, probably because we could see farther, with its hills, farms and small villages dotting the countryside, and mountain ranges in shades of purple and blue extending on and on in the distance. We think anyone could make a good living in Vermont this time of year taking pictures and selling them to calendar companies. Burlington, Vermont's biggest city, is a jewel in its setting on the shore of Lake Champlain, the largest lake in North America after the Great Lakes. It's a university town with a vibrant spirit, a 4-block section closed to automobile traffic, a beautiful performing arts center, lots of public space, politically awake; a town that gives you hope for the future. We especially enjoyed the scenes of life along the waterfront, the lively coop, and an excellent dinner at the North East Culinary Institute which serves THE best french onion soup and Stella Artois on tap. Brattleboro, in southern Vermont, was also a gem, right on the Connecticut River, bright, friendly people and beautiful old buildings. It's hard to tear ourselves away from such places, knowing we may never be back, but it's also good just to know they're there. In Brattleboro we took in an intimate Flamenco music and dance concert at a converted textile mill. One of the dancers was a woman who, though she must have been in her 50's, cast such a spell that every man (and probably some of the women, too) would have gladly been her slave. Vermont is a good place to be, and we never heard anyone complain about anything but the cold.
Pastoral Vermont

| | |
| --- | --- |
We took a break in the middle of our Vermont trip to visit Rus' friend Kathy from Peace Corps days, who lives in California but was visiting relatives in New York. We had only a few hours together, but it was great to reconnect with her. Kathy's a psychotherapist in Berkeley (why are so many of our friends psychotherapists?). Her husband John recently retired and is now involved with verifiedvoting.com, working to make paper records mandatory for computerized voting machines.
Massachusetts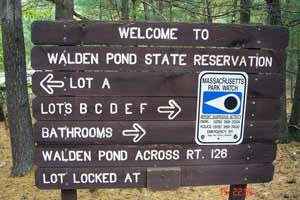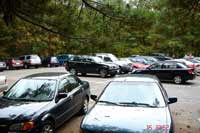 On our way to Boston, we saw the sign for Walden Pond, so of course we had to stop. As we pulled off the highway, we came to a line of cars waiting to pay their entry fee, saw the full parking lots and crowds, and reconsidered. Kathleen said "Oh my God, Thoreau would just shit!" Moving on through Concord, we drove by the State Correctional Facility bordering Highway 2, and wondered if it had been built on the site of the jail where Thoreau was incarcerated for refusing to pay war taxes. Ralph Waldo Emerson came to visit him on hearing that his good friend had been jailed and said "What are you doing in there?" Thoreau replied, "What are you doing out there?"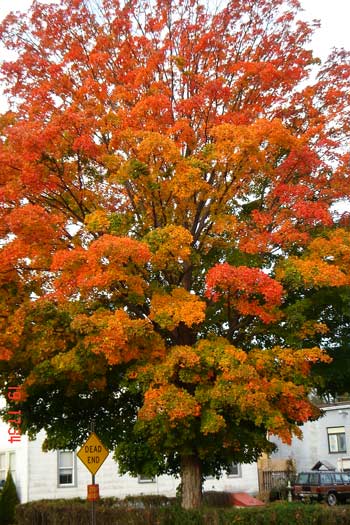 In Boston we visited our friends Eric and Lidia, who we'd last seen in California. Eric has lived in and around Boston most of his life, once a contractor and now a massage practictioner, a self-educated scholar in his many fields of interest. Lidia is from Portugal, raised on a small family farm, came to America about 30 years ago with no money, no English, and is now a psychotherapist. She owns a beautiful old building in downtown Arlington, a suburb of Boston, that she's made into a healing center with 21 offices. They're both adventurers, constantly doing something new. Right now, they're building a house in the Bahamas and spend about half their time there, so we were lucky to catch them at home.
Under Eric's guidance, Boston was a super-concentrated journey back into Colonial and Revolutionary history. Our jaws are only now closing back to normal position, after seeing the actual places, and the original buildings, where so many historic events took place. Not to mention Harvard University, the oldest (and richest, with an endowment second only to the Catholic Church) university in the country. Hard to imagine that the hip-looking kids ambling around the campus will be the business and civic leaders of the country some day. But maybe the most famous of all the Boston landmarks is the monument to the story Make Way for Ducklings, the mother duck with her bronze brood in line behind her, all polished bright by thousands of curious and admiring children's hands (and some adult ones, too).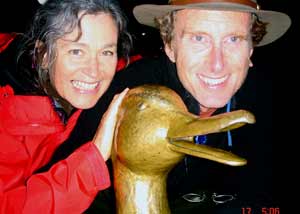 From Boston we took a little time to see Cape Cod, driving up to the very tip, where we walked along pristine and deserted Race Beach, and had a fine dinner at Clem & Ursie's Restaurant in Provincetown. P-town is a well-known gay and lesbian community and resort, immediately obvious along the nearby beaches, where couples stroll together like couples would stroll anywhere. We noticed how refreshing it felt to be see same-sex couples holding hands, sitting together on the beach, even having a lover's spat, with the freedom to be completely themselves for a change.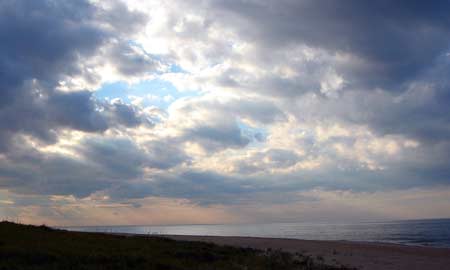 Connecticut and New York
Cape Cod was lovelier than we'd imagined and we'd have liked to spend more time exploring there, but we had a date in Milford, Connecticut to get together with our friends and mentors, Frank and Annie Cartwright, www.nextmillionmiles.com who own an Xcursion like ours and have traveled just about everywhere we've been or plan to go. We met them online and became friends through the wonders of email. Back then, we were in the early stages of planning and they were exploring Central America. Full-timers for years, they've taken a year off from travel to work, take care of family matters, and plan for their next adventure. We hadn't seen Frank and Annie since they stopped by to see us on their way to Alaska 18 months ago. This was before we'd even bought our rig, so we had a lot to catch up on, and a lot of fun doing it. They were excited that we were soon going to be in Mexico and points south, and we were sponges for the information they shared about favorite places and things to do and see, and practical tips learned from experience. Although we're probably close to the same age, somehow they seem a little like the parents guiding us (the kids) with patience and care. How often are you compelled to keep a notepad close by when you visit friends, hanging on every word, stopping them in mid sentence to write something down? It was a too-short visit, but we're sure to meet again somewhere along the road.
| | Race Beach, Cape Cod National Seashore |
| --- | --- |
It was time for an R&R day, so we headed north to the only campsite still open in Connecticut, stopping on the way at the Capitol Courthouse in Hartford, which houses a very nice museum of the glory days of Connecticut manufacturing, including a fine collection of Colt, Winchester, and Hi-Standard firearms. Did you know that the Frisbee was invented by students at Yale in the 1920's, when they learned to fling the tins from Mrs. Frisbie's pies? We didn't. Rus wandered through this fascinating exhibit, the only person there, while Kathleen, slightly less fascinated, found a good wi-fi signal in the law library to work at her computer.
We'd expected Hartford to be just a big, busy, crowded city with everything that means to strangers driving an RV, but we were surprised to find a beautiful, spacious city center with friendly, helpful people. Maybe some day we'll stop being surprised by beautiful places and friendly people, and just expect it.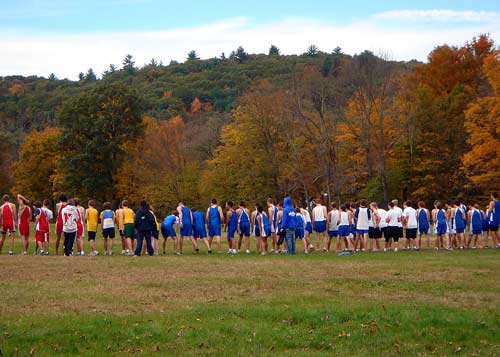 We hunkered down in a remote camp outside of Thomaston, CT for a couple of days to do laundry and other domestic chores before heading into New York to visit our good friends Jack and Laura, in Goshen. Jack is an opthomologist and Laura is-you guessed it-a psychotherapist. Rus is fond of saying, being married to a psychotherapist and having so many of them as friends, you get all the free counseling you need; you just don't get to choose when.
But our visit with Jack and Laura was lots better than free therapy. They are both adventurous souls who love travel, new experiences, and new ideas. Our kind of people. While keeping a running conversation, we ate like kings at their home and at their favorite restaurants, soaked in their hot tub, even got a tour of New York City with Jack as our tour guide, including a Broadway show and dinner. Neither of us had seen the City in many years, and it was better than ever, maybe not the most beautiful city in the world, but it's got to be the most vibrant!